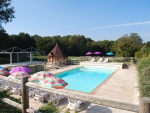 To improve your stay at the Vieille Borde, I decided to build a beautiful swimming pool. Realized in the respect for the rule, the swimming pool corresponds to the legal standards "collective swimming pool ".
The water treatment is automated, takings of quality control are made several times a day, and naturally, the powerful systems of filtrations correspond perfectly to the dimensions of the pool. 14 x 7 meters, and 1,20 m to 1,90m of depth. The swimming pool is equipped with modern and reliable security measures.
To offer you the maximum of comfort, a powerful hot air pump will give to the 140m3 of water a very pleasant aquatic temperature.
The swimming pool is open from the 15th of June till the 30th of September.